Golf Outings at Oak Grove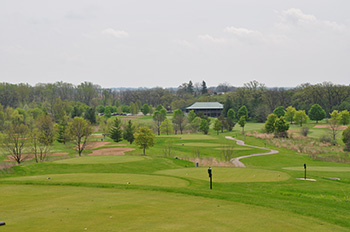 The Perfect Outing
Oak Grove is an outstanding place to hold your golf event, and our prices are affordable too. The following information will help you understand the types of golf outings we offer and the options available with each scenario. Whether your event is a bachelor party for 20, a corporate event for 50 or a charitable fundraiser for 144, we will work with you to customize an outing that meets your unique need
What You Can Expect
A great golf course, a friendly professional staff, fully stocked pro shop and great food. There are virtually countless options available to your group at Oak Grove Golf Course:
Consecutive Tee Time Outings*
Available for groups of 12 to 72 golfers. Schedule your small or large event at your convenience. Our block scheduling allows 28 to 32 players per hour to facilitate tee-box flow and assist in pace of play. As a guest, you have the option to make arrangements for food-and-beverage service, merchandise, competitions and scoring.
Shotgun Outings & Charitable Events
Available for groups of 80 to 144 golfers. A rate of per player applies to all shotgun outings or charitable events from May 1 through September 15. This includes greens fee, cart fees, event management, course set-up, proxy markers, personalized golf carts, box lunch, and buffet-style dinner.
Shotgun or Charitable Event add on's — A goodie bag ( tees, golf balls , towel or logo ball) can be added on for each member of the outing.
* A fifty percent (50%) nonrefundable deposit is required to reserve a shotgun or charitable event. Prime and non-prime rates vary based on each outing's needs.
** Restrictions apply to shotgun-start outings and charitable events, and should be discussed with and approved by golf course management. A fifty percent (50%) nonrefundable deposit is required to reserve a date and time. Please contact the golf shop for additional information.
Parties and Banquets at The Lodge
Host your next special event at Oak Grove Golf Course! Our spacious, lodge-style clubhouse, with it's charming character and scenic views, is a wonderful venue not just for your golf outing, but also for your party, banquet or other special event. Whether it's a family, corporate, school or team function…a holiday party or birthday party…baby shower or bridal luncheon, Oak Grove offers an exclusive location, a beautiful, scenic setting with lovely views of the golf course, and friendly, attentive customer service. Banquet and Party information available here.
Tournament Request